Mild disclaimer…I'm what you would call a "casual" Western fan.  I've read very few Westerns, and my viewing experience has been largely of the vintage variety, ranging from John Wayne classics to more obscure TV series, like my all-time favorite, The Virginian.  I've mostly avoided heavier fare, a la The Revenant, and to be honest, the first Western I liked was a Gary Cooper comedy called Along Came Jones (1945).
Gary Cooper's lovably dorky Melody Jones
The above makes me particularly ill-qualified to review Westerns as an overall genre.  But since watching A Fistful of Dollars (1964) with my parents last night, I thought I'd share some first impressions of an early Clint Eastwood film.  (Note: my "first" first impression of Eastwood was his film The Outlaw Josey Wales (1976), which was too gritty for me to really enjoy.)
A Fistful of Dollars is the first of director Sergio Leone's famous "Dollars" trilogy, three "spaghetti Westerns" so-called due to being Italian films set in the American Old West.  Thirty-something Clint Eastwood stars as the American protagonist, the "Man with No Name" who shows up in the town of San Miguel with a gun, a horse, and his signature poncho.  He finds himself in the middle of a family feud between the fierce Rojo family and the less-fierce Baxter family, neither side particularly pleased to have a stranger intruding on the drama.  Meanwhile, a mysterious woman named Marisol and a traumatized little boy draw the Man further into the conflict and the darker side of the Rojos.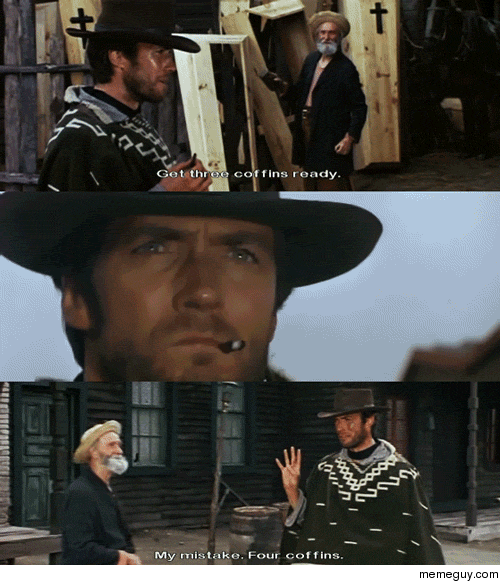 This is one of those "iconic" films which is all genre and no story.  Ok, there's a story… but it's told in tropes and archetypes.  Here you won't find the moral dilemmas of The Virginian, nor even the psychological depth of Wayne's The Man Who Shot Liberty Valance. We have Evil Guys, Good Guys, and a Small Town – oh, and of course, the Superman figure.
To be fair, what Eastwood creates here is his own archetype, one he became famous for.  Cool-headed, lanky, and with a dry sense of humor, he is an echo of Wayne, clearly from the same "family" but not a twin.  A sense of ambiguity and pragmatism surrounds the Man with No Name.  He makes no promises, and he has no expectations.  With minimalist dialogue, the Man makes his position clear nonetheless; he is on his own side, living and killing by a set of morals which are partly learned yet partly self-defined.
Rojo and his henchman, quintessential villains
What saves the film from being purely violence is Marisol's subplot.  Another layer of the Man's character unfolds as he witnesses her plight, and without saying too much, I felt it added some depth to an otherwise shallow tale.  It would hardly be a Western without a damsel in distress, but in the context of A Fistful of Dollars, the role of a "weak" female character is well understood by the grim setting, as well as balanced by her male counterparts, the innkeeper and the coffin maker.
Overall: 3.5 out of 5 stars.  Contains some violence, equivalent to modern PG-13.